A New Era: Debunking the Notion of a Repeat of 2008 in Today's Foreclosure Numbers
Posted by Heidi Schrock on Friday, June 23, 2023 at 12:32 PM
By Heidi Schrock / June 23, 2023
Comment
It's important to understand the context behind the increase in foreclosure filings to gain a clear perspective on the current housing market. While it's true that foreclosure filings have gone up compared to the previous quarter and year, it's crucial to consider the broader trends and historical data to avoid misconceptions and unnecessary worry.
The increase in foreclosure filings should not be interpreted as a sign of an impending foreclosure crisis. The housing market is still strong overall, and the rise in filings can be attributed to various factors such as economic challenges, temporary financial hardships, and changes in foreclosure moratoriums or government policies.
When comparing the current data to previous years, it may reveal that foreclosure levels are still relatively low. It's important to note that the housing market has been resilient and has recovered significantly since the Great Recession, with stricter lending practices and improved overall economic conditions.
To gain a comprehensive understanding of the local housing market conditions and foreclosure trends in your area, it's recommended to consult with a real estate professional or housing market expert. They can provide you with accurate and up-to-date information specific to your location, helping you make informed decisions about buying a home based on reliable data rather than sensationalized headlines.
It Isn't the Dramatic Increase Headlines Would Have You Believe
In the past few years, the number of foreclosures has remained low due to various factors, including government programs and relief options for homeowners facing financial difficulties. The forbearance program implemented during the COVID-19 pandemic provided temporary payment relief for homeowners, allowing them to stay in their homes and regain their financial stability.
Additionally, the strong appreciation in home values during this period has played a significant role in preventing foreclosures. As home values have increased, homeowners who may have been at risk of foreclosure have been able to tap into their home equity through selling their houses. Selling the property and using the equity has provided an alternative solution to foreclosure for many homeowners.
Moving forward, equity will continue to be an essential factor in preventing foreclosures. Homeowners who have built up equity in their homes have more options if they face financial challenges. They can potentially sell their homes, refinance, or explore loan modification options to avoid foreclosure.
It's important to note that individual circumstances may vary, and it's always advisable for homeowners facing financial difficulties to consult with a housing counselor, financial advisor, or real estate professional who can provide guidance and explore the available options specific to their situation.
As the government's moratorium came to an end, there was an expected rise in foreclosures. But just because foreclosures are up doesn't mean the housing market is in trouble. As Clare Trapasso, Executive News Editor at Realtor.com, says:
"There's no reason to panic, at least not yet. Foreclosure filings began ticking up . . . after the federal foreclosure moratorium ended. The moratorium was enacted in the early days of COVID-19, when millions of Americans lost their jobs, to prevent a tsunami of homeowners losing their properties. So some of these proceedings would have taken place during the pandemic but got delayed due to the moratorium. This is a bit of a catch-up."
Basically, there's not a sudden flood of foreclosures coming. Instead, some of the increase is due to the delayed activity explained above while more is from economic conditions. As Rob Barber, CEO of ATTOM, explains:
"This unfortunate trend can be attributed to a variety of factors, such as rising unemployment rates, foreclosure filings making their way through the pipeline after two years of government intervention, and other ongoing economic challenges. However, with many homeowners still having significant home equity, that may help in keeping increased levels of foreclosure activity at bay."
To further paint the picture of just how different the situation is now compared to the housing crash, take a look at the graph below. It shows foreclosure activity has been lower since the crash by looking at properties with a foreclosure filing going all the way back to 2005.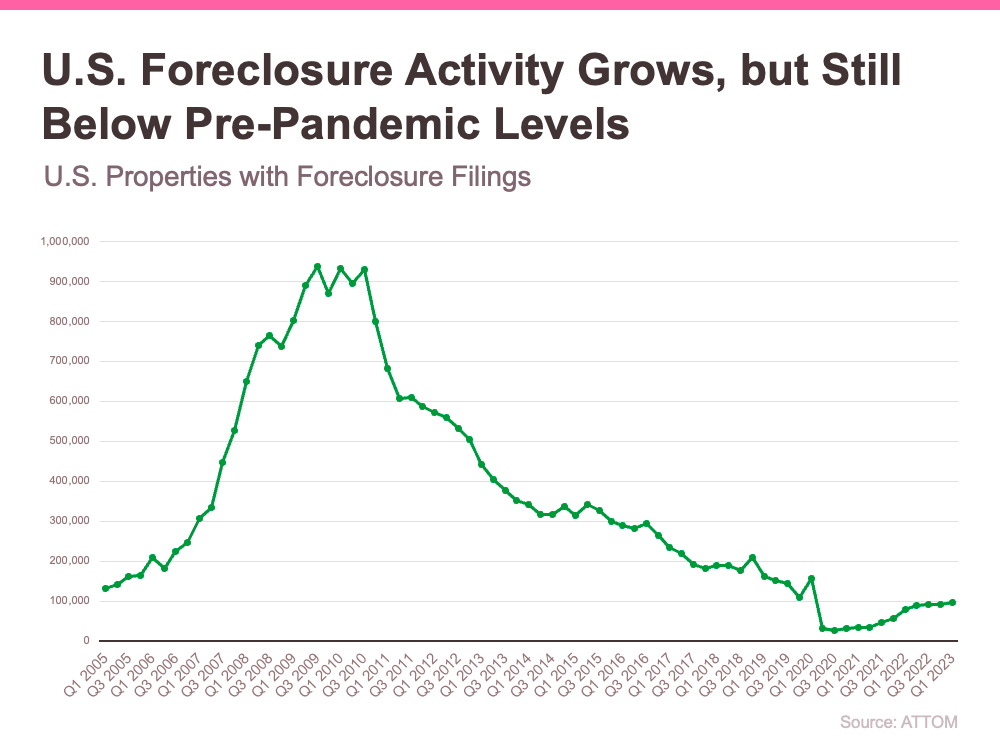 While foreclosures are climbing, it's clear foreclosure activity now is nothing like it was during the housing crisis. In addition to all of the factors mentioned above, that's also largely because buyers today are more qualified and less likely to default on their loans.
Today, foreclosures are far below the record-high number that was reported when the housing market crashed.
Bottom Line
Right now, putting the data into context is more important than ever. While the housing market is experiencing an expected rise in foreclosures, it's nowhere near the crisis levels seen when the housing bubble burst, and that won't lead to a crash in home prices.