Balancing the Equation: Analyzing the Three Factors that Shape Home Affordability Today
Posted by Heidi Schrock on Thursday, June 22, 2023 at 12:21 PM
By Heidi Schrock / June 22, 2023
Comment
Mortgage rates: Mortgage rates play a crucial role in determining the affordability of homes. Higher mortgage rates can increase monthly mortgage payments, potentially making homes less affordable for buyers. Conversely, lower mortgage rates can make homeownership more affordable by reducing monthly payments.
Home prices: Home prices directly impact affordability. When home prices are high, it may be more challenging for buyers to find homes within their budget. Conversely, lower home prices can increase affordability and provide more options for buyers.
Wages and income: The income level and wage growth of potential homebuyers are essential factors in determining affordability. When wages increase at a faster rate than home prices, it can improve affordability. However, if wages do not keep pace with rising home prices, it may pose challenges for buyers.
1. Mortgage Rates
While mortgage rates are higher than they were a year ago, they've hovered primarily between 6% and 7% for nearly eight months now (see graph below):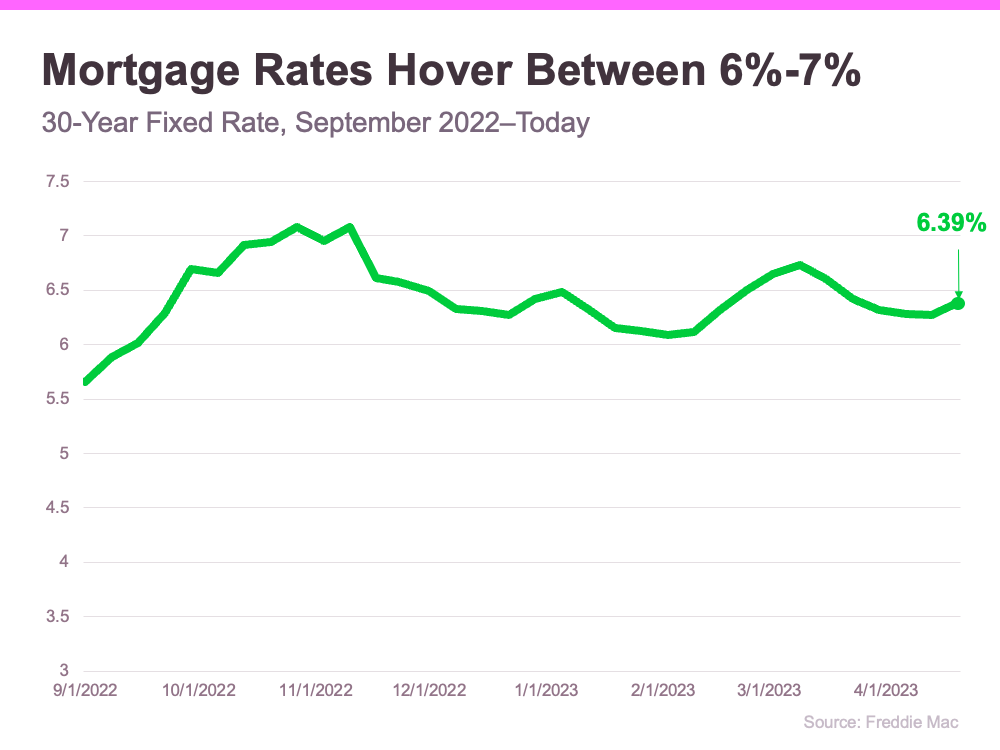 As the graph shows, mortgage rates have experienced some volatility during that time. And even a small change in mortgage rates impacts your purchasing power. That's why it's so important to lean on your team of real estate professionals for expert advice to stay up to date on what's happening in the market. While it's hard to project where mortgage rates will go from here, many experts agree they'll likely continue to remain around 6%-7% in the immediate future.
2. Home Prices
Over the past few years, home prices appreciated rapidly as the record-low mortgage rates we saw during the pandemic led to a surge in buyer demand. The heightened buyer demand happened while the supply of homes for sale was at record lows, and that imbalance put upward pressure on home prices. However, today's higher mortgage rates have slowed down price appreciation.
And, the truth is, home price appreciation varies by market. Some areas are seeing slight declines while others have prices that are climbing. As Selma Hepp, Chief Economist at CoreLogic, explains:
"The divergence in home price changes across the U.S. reflects a tale of two housing markets. Declines in the West are due to the tech industry slowdown and a severe lack of affordability after decades of undersupply. The consistent gains in the Southeast and South reflect strong job markets, in-migration patterns and relative affordability due to new home construction."
To find out what's happening with prices in your local market, reach out to a trusted real estate agent.
3. Wages
The most positive factor in affordability right now is rising income. The graph below uses data from the Bureau of Labor Statistics (BLS) to show how wages have grown over time: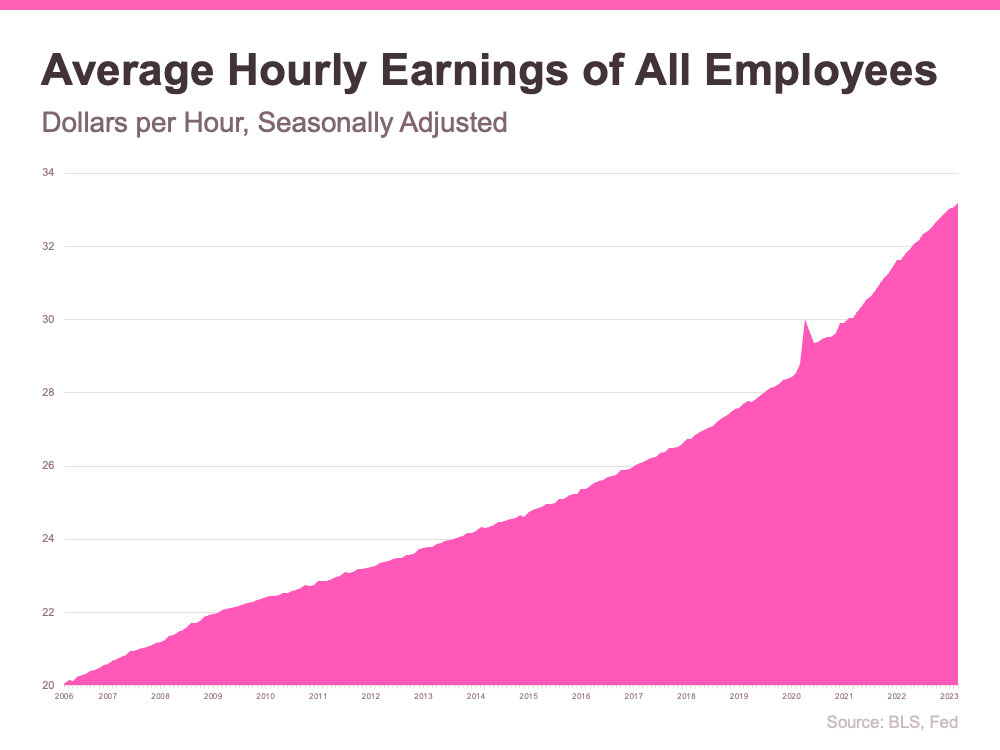 Higher wages can improve affordability by reducing the percentage of income required to cover monthly mortgage payments. When wages increase, homebuyers have more financial capacity to handle housing costs, which can positively impact their ability to afford a home.
In addition to mortgage rates and home prices, wages play a crucial role in determining overall home affordability. If wages are rising at a faster pace than home prices and mortgage rates, it can help offset the impact of higher prices and rates, making homeownership more accessible to a broader range of buyers.
To gain a better understanding of how these factors interact and affect affordability in your specific area, it's recommended to consult with a local real estate professional. They can provide insights into the local market conditions, wage trends, and how they relate to mortgage rates and home prices. They will have a comprehensive understanding of the local housing market and can guide you in making informed decisions based on your financial situation and goals.
Bottom Line
If you're planning to buy a home, knowing the key factors that impact affordability is important so you can make an informed decision. To stay up to date on the latest on each, let's connect today.