Beyond the Rent Check: Why Buying a Home is a Wise Investment
Posted by Heidi Schrock on Friday, May 5, 2023 at 11:44 AM
By Heidi Schrock / May 5, 2023
Comment

If you're trying to decide whether to rent or buy a home this year, there's an important factor to consider. Rental affordability has been a persistent challenge for many years, as rents tend to increase over time. Census data indicates that rents have been on a steady upward trend since 1988. The latest rental report from Realtor.com also shows that rents are still increasing, albeit at a slower pace than during the peak of the pandemic.
"In March 2023, the U.S. rental market experienced single-digit growth for the eighth month in a row . . . The median asking rent was $1,732, up by $15 from last month and down by $32 from the peak but is still $354 (25.7%) higher than the same time in 2019 (pre-pandemic)."
Considering the fact that rents are significantly higher now than in normal, pre-pandemic years, buying a home may be a more appealing option. This is especially true if the long-term trend of rent increases persists. In contrast, homeowners with a fixed-rate mortgage can enjoy the advantage of locking in a consistent monthly mortgage payment for the duration of their loan, which generally lasts from 15-30 years.
Owning a Home Could Be More Affordable if You Need More Space
The graph below uses national data on the median rental payment from Realtor.com and median mortgage payment from the National Association of Realtors (NAR) to compare the two options. As the graph shows, depending on how much space you need, it's typically more affordable to own than to rent if you need two or more bedrooms: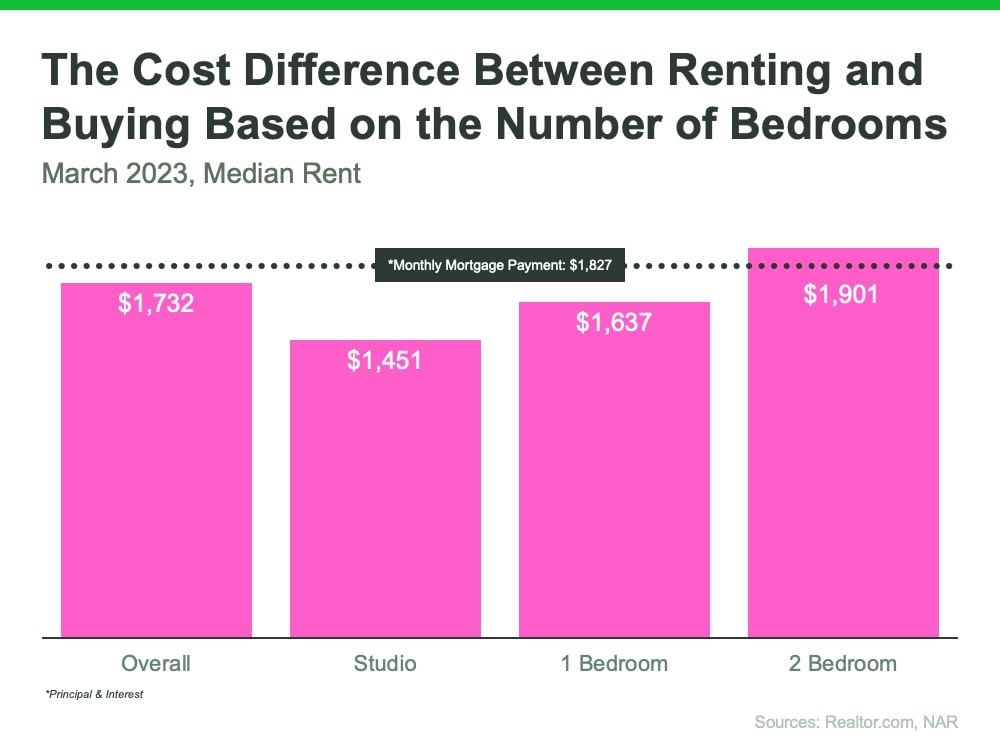 If you require a living space with two or more bedrooms to accommodate your household, give you more space to organize your belongings, or create a dedicated area to pursue your hobbies, purchasing a home may be worth considering.
Homeownership Allows You To Start Building Equity
Apart from providing protection against rising rents and being more cost-effective when you need additional living space, owning a home enables you to start building equity, which consequently enhances your net worth. As property values typically appreciate over time and your mortgage is paid off, you accumulate equity. This equity can serve as a foundation for future success because you can utilize it to finance a move to an even larger space in the future. According to Zonda, the leading reason why millennial homeowners purchased a home in the past year was to build their own equity rather than paying someone else's.
Bottom Line

If you're grappling with the decision of whether to buy a home or stick with renting, feel free to reach out to me to explore your choices. Given the escalating rents, it might be more worthwhile to consider fulfilling your aspiration of owning a home.