Breaking the Stereotype: Exploring the Factors Driving Millennials to Buy Homes
Posted by Heidi Schrock on Wednesday, June 14, 2023 at 10:21 AM
By Heidi Schrock / June 14, 2023
Comment
In the United States, there is a significant number of millennials, with over 72 million individuals belonging to this generation. It's not surprising that many millennials are interested in homeownership, as data from Zonda indicates that 98% of them aspire to become homeowners at some point in their lives. There are various reasons why millennials choose to pursue homeownership. The graph below highlights some of the common motivations among millennials who have made the decision to become homeowners.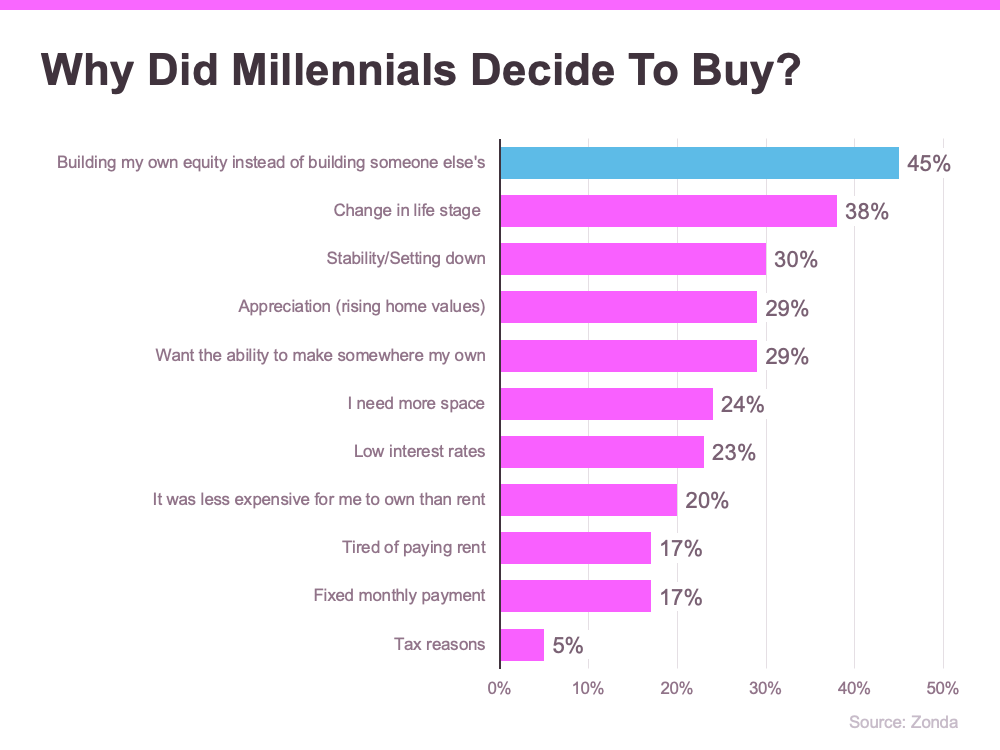 This graph shows why millennials are buying homes according to Zonda's 6th annual millennial survey. The top reasons include building equity, a change in life stage, wanting stability, rising home values, and wanting to make somewhere truly their own. Here's a look at each in more detail.
Building equity - The millennial generation comprises a significant portion of the population, with over 72 million individuals. Among millennials, the desire to become a homeowner is widespread, as evidenced by a survey conducted by Zonda. The survey revealed that 98% of millennials expressed a desire to own a home, either currently or in the future.
There are various reasons why millennials are drawn to homeownership. The graph below illustrates some of the primary factors that have influenced their decision:
Building equity: Homeownership allows millennials to build equity over time, which can serve as a long-term investment and potential source of wealth.
Stable housing costs: Owning a home provides stability in housing costs, particularly compared to renting, where rent prices can fluctuate and be subject to increases.
Sense of pride and accomplishment: Owning a home often brings a sense of pride and accomplishment, as it represents a significant milestone and a symbol of personal achievement.
Control and customization: Homeownership offers the freedom to personalize and customize living spaces, allowing millennials to create a home that reflects their personal style and preferences.
Creating a stable environment: Many millennials desire a stable environment for themselves and their families, and homeownership can provide a sense of security and stability.
These are just a few of the reasons why millennials are motivated to become homeowners. The decision to buy a home is deeply personal and influenced by individual circumstances, financial considerations, and
A change in life stage -
As a millennial, reaching your prime homebuying years often coincides with significant life changes and evolving housing needs. Here are a few reasons why you may be considering the need for more space or a different location:
Growing family: Many millennials start families or plan to do so in the near future. The need for additional bedrooms, a larger living space, or a backyard becomes essential as your family expands. A home provides the opportunity for children to have their own rooms, space for play, and a sense of stability.

Work flexibility: With the rise of remote work and flexible work arrangements, your housing needs may change. You may require a dedicated home office space, a quiet environment for virtual meetings, or a home that accommodates a hybrid work lifestyle.

Lifestyle preferences: As you progress in your career and personal life, your lifestyle preferences may shift. You may desire a different location that offers better amenities, proximity to recreational activities, schools, or a vibrant social scene. Your housing choice may reflect your desire for a specific neighborhood or community that aligns with your lifestyle goals.

Investment opportunities: As your financial situation improves, you may be considering real estate as an investment opportunity. Purchasing a home in a desirable location can potentially provide both a place to live and a long-term investment that may appreciate over time.

Changing priorities: Your priorities and values may evolve as you mature. You may prioritize homeownership for the sense of stability, control, and personal fulfillment it brings. Owning a home allows you to customize your living space, establish roots in a community, and create a sense of belonging.
Before making any decisions, it's important to carefully assess your financial readiness, determine your housing needs, and consider your long-term goals. Working with a knowledgeable real estate professional can help you navigate the process, explore different neighborhoods, and find a home that meets your evolving needs.
Stability or settling down – This could mean establishing your career or just generally deciding more concretely what you want your life to look and feel like. As that idea becomes clearer, you may want to establish that lifestyle in a particular place and put down roots.
Rising home values – By purchasing a home, you own an asset that traditionally increases in value over time. That can mean your home will have a higher resale value if you decide to move again.
Wanting to make somewhere "mine" – Owning a home gives a sense of freedom because you can customize it however you want, make updates as you see fit, and be yourself in a place that's solely your own.
Bottom Line
There are plenty of great reasons why millennials are buying homes today. If you've thought about becoming a homeowner and any of these reasons resonate with you too, let's connect to explore your options.