Brighter Days Ahead: The Real Estate Market's Recovery and the End of Home Price Declines
Posted by Heidi Schrock on Tuesday, May 23, 2023 at 11:23 AM
By Heidi Schrock / May 23, 2023
Comment
If you've been following the news, you might be feeling uncertain about the direction of home prices and concerned about a potential downturn. However, it's important to recognize that current headlines are painting a disproportionately negative picture. The reality is that home prices are not plummeting; in fact, the latest data presents a much more positive narrative. While local markets may still exhibit varying trends, national data provides valuable insights.
Taking a year-over-year perspective, home prices have remained positive, albeit with a slower rate of appreciation compared to the peak of the pandemic. To delve into more specific market trends, it's necessary to examine monthly data.
The following graphs depict recent reports from three reputable sources, indicating that the most significant declines in home prices are already in the past, and prices are steadily rebounding on a national level.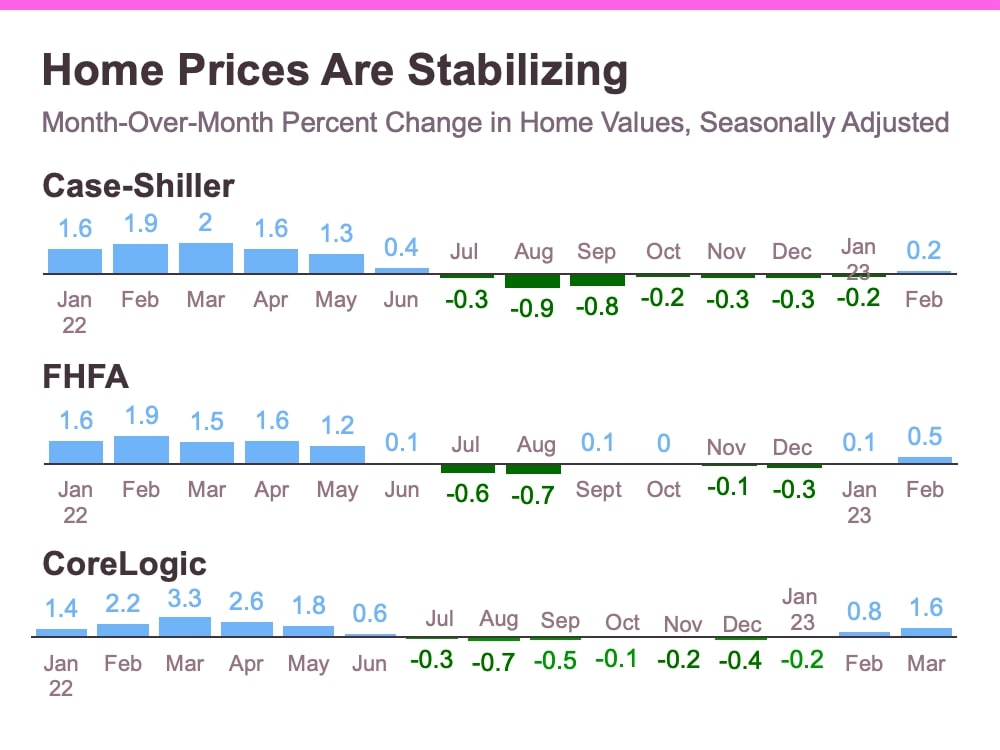 The monthly view of home prices reveals a divided market over the past year. The first half of 2022 saw prices rising and peaking in June, followed by a decline starting in July. However, the trend stabilized around August or September, and recent data for early 2023 shows a rebound with prices beginning to increase again. While it's important to note that one to two months of data don't establish a long-term trend, the fact that all three reports indicate price stabilization is a positive sign for the housing market. The month-over-month data suggests a tentative consensus that home prices are starting to rise once more.
Andy Walden, Vice President of Enterprise Research at Black Knight, says this about home price trends:
"Just five months ago, prices were declining on a seasonally adjusted month-over-month basis in 92% of all major U.S. markets. Fast forward to March, and the situation has done a literal 180, with prices now rising in 92% of markets from February."
Selma Hepp, Chief Economist at CoreLogic, explains the limited supply of homes available for sale is contributing to this positive turn:
" . . . prices in many large metros appeared to have turned the corner, with the U.S. recording a second month of consecutive monthly gains. . . . The monthly rebound in home prices underscores the lack of inventory in this housing cycle."
Here's What This Means for You
Sellers: If you've been holding off on selling because you're worried about what was happening with home prices and how it would impact the value of your home, it may be time to jump back in and partner with an agent to list your house. You don't have to put your needs on hold any longer because the latest data shows a turn in your favor.
Buyers: If you've been waiting to buy because you didn't want to purchase something that would decrease in value, you now have the peace of mind things are looking up. Buying now lets you make your move before home prices climb more and gives you the chance to own an asset that typically grows in value over time.
Bottom Line
If concerns about falling home prices have caused you to postpone your plans to move, it's important to know that the data indicates the worst is already behind us and home prices are actually increasing on a national level. To gain a better understanding of the specific trends in your local market, it would be beneficial to connect with a local real estate expert who can provide insights on the current state of home prices in your area.