Building Your Future: How Owning Your Home Helps You Build Wealth
Posted by Heidi Schrock on Wednesday, August 23, 2023 at 10:45 AM
By Heidi Schrock / August 23, 2023
Comment
Owning a home can indeed be a sound long-term investment that contributes to building your net worth. When you own a home, you are building equity, which is the difference between the market value of your home and the remaining amount on your mortgage. Over time, as you pay down your mortgage and home values appreciate, your equity grows.
Unlike renting, where you are essentially paying someone else's mortgage, homeownership allows you to build wealth through equity accumulation. As you build equity, you increase your net worth, providing financial stability and security for the future.
Furthermore, homeownership can offer tax benefits, such as deducting mortgage interest and property taxes, which can help reduce your tax liability and potentially increase your overall savings.
Moreover, owning a home provides a sense of stability and the freedom to personalize your living space, unlike renting, where you may be limited in making changes to the property.
While there are circumstances where renting may be a better option for some individuals, owning a home remains an attractive long-term investment strategy for many people. As you consider your housing options, it's essential to evaluate your financial goals, lifestyle, and personal preferences to make an informed decision that aligns with your unique situation. Consulting with a real estate professional or financial advisor can also provide valuable insights and help you determine if homeownership is the right choice for you.
Homeownership Builds Wealth Regardless of Income Level
You may be surprised to learn homeowners across various income levels have a much higher net worth than renters who make the same amount. Data from First American helps illustrate this point (see graph below):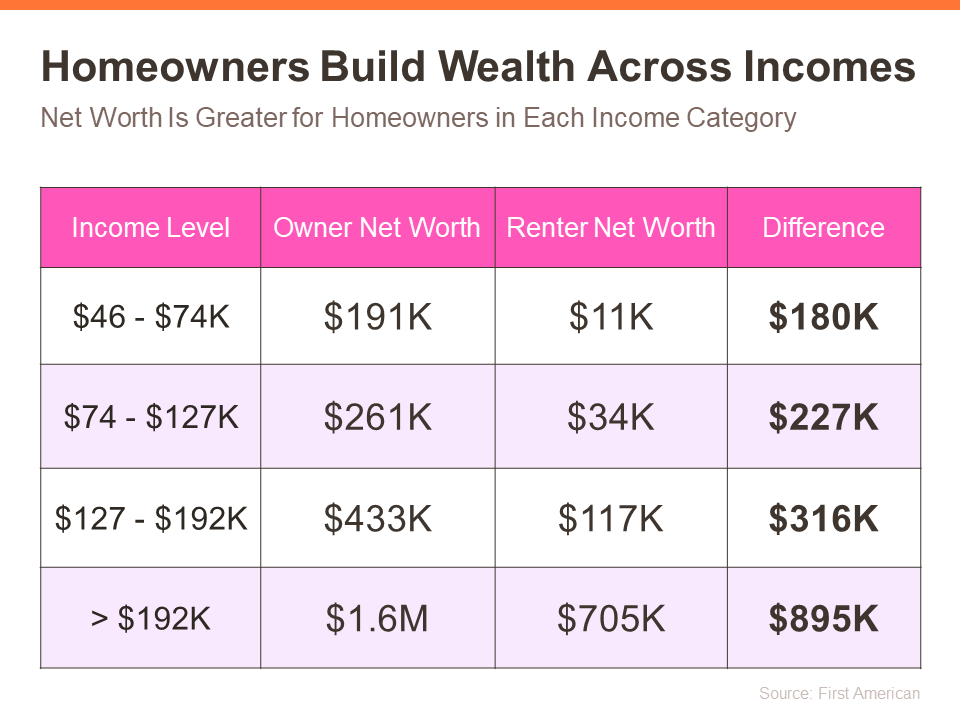 What makes wealth so much higher for homeowners? A recent article from Realtor.com says:
"Homeownership has long been tied to building wealth—and for good reason. Instead of throwing rent money out the window each month, owning a home allows you to build home equity. And over time, equity can turn your mortgage debt into a sizeable asset."
Basically, the wealth you accumulate when you own a home has a lot to do with equity. As a homeowner, equity is built up as you pay down your loan and as home prices appreciate over time. Mark Fleming, Chief Economist at First American, explains how this same benefit isn't true for renters in a recent podcast:
"Renters as non-homeowners gain no wealth benefit as home prices rise. That wealth actually accrues to the landlord."
Before you decide to sign another rental agreement, now is a good time to think about whether it would be better for you to buy a home instead. The best way to figure out what makes sense for you is to have a conversation with a real estate expert you trust. That professional can talk you through the benefits that come with owning to determine if that's the right next step for you.
Bottom Line
If you're not sure whether to keep renting or to buy a home, know that owning a home, no matter how much money you make, can help build your wealth. Let's connect now to get started on the path to homeownership.