Debunking the Myths: Why Comparing Today's Foreclosures to 2008 is Misleading
Posted by Heidi Schrock on Tuesday, May 9, 2023 at 12:02:26 PM
By Heidi Schrock / May 9, 2023
Comment
If you've been keeping up with the news lately, you may have come across articles discussing the rising number of foreclosures in today's housing market. This can be a cause for concern, particularly if you're in the process of buying a home. However, it's important to understand what these headlines really mean in order to gain a clearer picture of the situation.
Recently, ATTOM, a company that provides property data, released a report indicating that foreclosure filings have increased by 6% compared to the previous quarter and by 22% compared to one year ago. While this may sound alarming, simply focusing on the numbers themselves could create unnecessary worry and even deter you from buying a home due to fears of a potential crash in housing prices.
The truth is that although foreclosures are on the rise, it doesn't necessarily mean that the market is heading towards a foreclosure crisis. To gain a better understanding of the current situation, it's important to look at the latest information in context and compare it to previous years.
It Isn't the Dramatic Increase Headlines Would Have You Believe
In the past few years, there has been a remarkable decrease in the number of foreclosures. This was due to the implementation of various relief programs, such as the forbearance program, that helped millions of homeowners keep their homes during the difficult times of 2020 and 2021. Additionally, as property values increased during this time, many homeowners who would have otherwise been at risk of foreclosure were able to capitalize on their home equity and sell their properties instead.
Looking ahead, equity will continue to be a significant factor in keeping homeowners from experiencing foreclosure. Despite the anticipated rise in foreclosures following the expiration of the government's moratorium, it's important to note that an increase in foreclosures does not necessarily indicate trouble for the housing market. As Clare Trapasso, Executive News Editor at Realtor.com, says:
"There's no reason to panic, at least not yet. Foreclosure filings began ticking up . . . after the federal foreclosure moratorium ended. The moratorium was enacted in the early days of COVID-19, when millions of Americans lost their jobs, to prevent a tsunami of homeowners losing their properties. So some of these proceedings would have taken place during the pandemic but got delayed due to the moratorium. This is a bit of a catch-up."
Basically, there's not a sudden flood of foreclosures coming. Instead, some of the increase is due to the delayed activity explained above while more is from economic conditions. As Rob Barber, CEO of ATTOM, explains:
"This unfortunate trend can be attributed to a variety of factors, such as rising unemployment rates, foreclosure filings making their way through the pipeline after two years of government intervention, and other ongoing economic challenges. However, with many homeowners still having significant home equity, that may help in keeping increased levels of foreclosure activity at bay."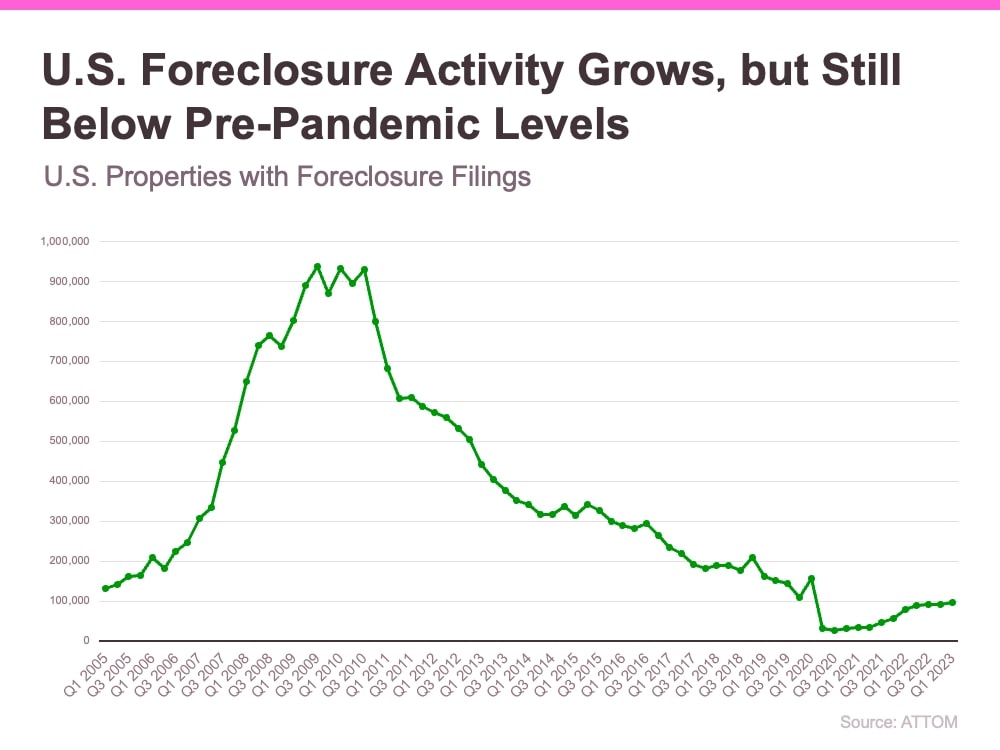 Although the number of foreclosures is currently on the rise, it is evident that the foreclosure activity we are seeing today is vastly different from what occurred during the housing crisis. This is due to various factors mentioned earlier, including relief programs, rising property values, and most importantly, a shift towards more qualified buyers who are less likely to default on their loans.
Furthermore, it's important to note that the current number of foreclosures is still significantly lower than the record-high levels observed during the housing crash. This indicates that despite the current increase in foreclosures, the housing market remains relatively stable and not in a state of crisis.
Bottom Line
In the current climate, it's crucial to contextualize the data regarding foreclosures. Although we are currently seeing an anticipated increase in foreclosures in the housing market, it's essential to note that this is nowhere near the levels observed during the housing bubble burst. As a result, it's unlikely that this rise in foreclosures will lead to a crash in home prices.