Dreaming of Homeownership: Why Americans Still Believe in the American Dream
Posted by Heidi Schrock on Monday, August 7, 2023 at 10:00 AM
By Heidi Schrock / August 7, 2023
Comment
Indeed, the American Dream is a deeply personal concept, representing different aspirations and ideals for each individual. However, a common thread among many is the desire for success, freedom, and prosperity, and homeownership plays a significant role in fulfilling these aspirations.
Owning a home is often seen as a symbol of accomplishment and success, signifying a milestone of financial stability and security. It allows individuals and families to build equity over time, providing a pathway to long-term wealth accumulation and financial independence. Homeownership can also foster a sense of pride and accomplishment, as it represents a tangible achievement of the hard work and dedication put into achieving this goal.
Beyond financial gains, homeownership offers a sense of freedom and control over one's living environment. Homeowners have the liberty to customize and personalize their space according to their preferences, creating a place that truly feels like their own sanctuary. This autonomy allows for the freedom to make decisions about the property, from renovations to landscaping, providing a level of control that may not be possible in rental properties.
Moreover, homeownership often strengthens a sense of belonging and community, as homeowners become invested in their neighborhoods and take pride in being part of a stable community. Owning a home can create a strong sense of belonging, fostering connections with neighbors and contributing to the overall sense of well-being.
Overall, while the American Dream may take various forms, owning a home remains a fundamental part of the journey for many, offering a sense of accomplishment, independence, and the promise of a brighter and more prosperous future.
A recent survey from Bankrate asked respondents which achievements they feel most embody the American Dream. The responses prove owning a home is still important to so many Americans today (see graph below):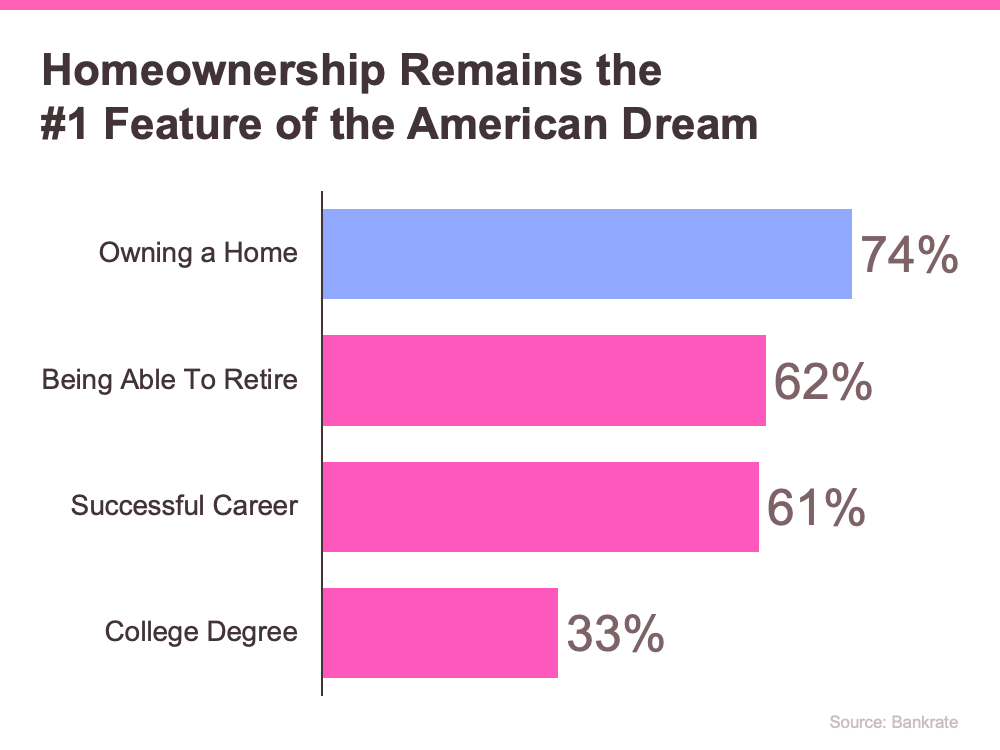 As the graph shows, homeownership ranks above other significant milestones, including retirement, having a successful career, and earning a college degree.
A recent report from MYND helps shed light on why so many people value homeownership. It finds:
". . . nearly two-thirds of Americans (65%) see homeownership as a means of building intergenerational wealth."
That's because, when you own a home, your equity (and net worth) grows over time as you pay down your home loan and as home prices appreciate. This can be a key factor in building intergenerational wealth and long-term financial stability.
To further drive home the difference homeownership can make in your life, a report from Fannie Mae says:
"Most consumers (87%) believe owning a home is important to 'live the good life.' . . . Notably, significantly more see 'having less stress' as a benefit achieved by owning than renting."
Especially today, this could be because, when you own a home with a fixed-rate mortgage, you stabilize what's likely your largest monthly expense (your housing cost), and that helps combat the impact of rising costs from inflation.
What Does This Mean for You?
While it may feel challenging to buy a home today with higher mortgage rates and home prices, if the time is right for you, know that when you buy a home, incredible benefits are waiting for you at the end of your journey.
Bottom Line
Buying a home is a significant and powerful choice, embodying the foundation of the American Dream. If you plan to make your homeownership dream a reality this year, let's connect to start the process.