Embracing Change: How Homebuyers Adapt to the New Normal
Posted by Heidi Schrock on Monday, August 21, 2023 at 10:30 AM
By Heidi Schrock / August 21, 2023
Comment
Understanding the current housing market trends is crucial when considering selling your house. One encouraging development is that homebuyers are adapting and becoming more comfortable with the prevailing mortgage rates, accepting them as the new norm. As mortgage rates have increased from the record lows observed during the pandemic, buyers have had to adjust their expectations and approach to the homebuying process.
While higher mortgage rates may have initially caused some concerns, the market has shown resilience, and buyers are demonstrating a willingness to move forward with their home purchases despite the higher borrowing costs. The shift in buyer behavior is a positive sign for sellers, as it indicates a continued demand for homes, even in a market with increased rates.
As a potential home seller, this trend is crucial to consider when pricing your property and gauging the level of interest you may receive from prospective buyers. The fact that homebuyers are adapting to the current mortgage rates suggests that the market remains active and healthy, providing you with a more stable environment in which to list and sell your home.
Nonetheless, as with any real estate decision, it's essential to stay informed about market conditions and work with a trusted real estate professional who can provide you with up-to-date insights and guidance. A skilled agent will help you navigate the nuances of the market and ensure that you make informed decisions to achieve a successful sale in today's changing landscape.
To better understand what's been happening with mortgage rates lately, the graph below shows the trend for the 30-year fixed mortgage rate from Freddie Mac since last October. As you can see, rates have been between 6% and 7% pretty consistently for the past nine months: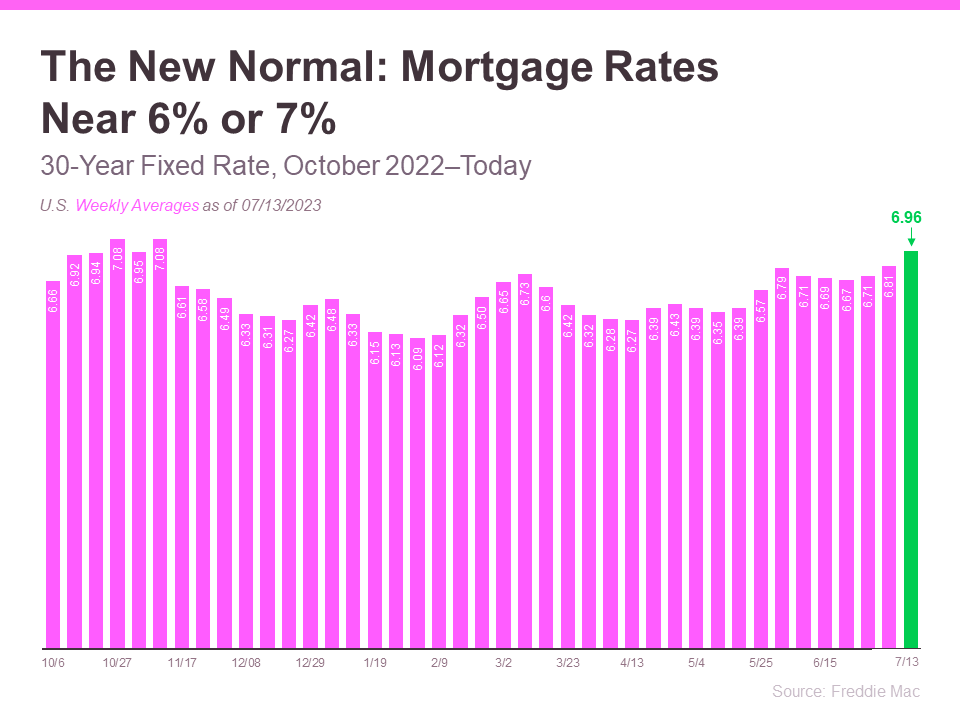 According to Lawrence Yun, Chief Economist at the National Association of Realtors (NAR), mortgage rates play a significant role in buyer demand and, by extension, home sales. Yun highlights the positive impact of stable rates:
"Mortgage rates heavily influence the direction of home sales. Relatively steady rates have led to several consecutive months of consistent home sales."
As a seller, hearing that home sales are consistent right now is good news. It means buyers are out there and actively purchasing homes. Here's a bit more context on how mortgage rates have impacted demand recently.
When mortgage rates surged dramatically last year, escalating from roughly 3% to 7%, many potential buyers felt a bit of sticker shock and decided to hold off on their plans to purchase a home. However, as time has passed, that initial shock has worn off. Buyers have grown more accustomed to current mortgage rates and have accepted that the record-low rates of the last few years are behind us. As Doug Duncan, SVP and Chief Economist at Fannie Mae, says:
". . . consumers are adapting to the idea that higher mortgage rates will likely stick around for the foreseeable future."
In fact, a recent survey by Freddie Mac reveals 18% of respondents say they're likely to buy a home in the next six months. That means nearly one out of every five people surveyed plan to buy in the near future. And that goes to show buyers are planning to be active in the months ahead.
Of course, mortgage rates aren't the sole factor affecting buyer demand. No matter where mortgage rates stand, people will always have reasons to move, whether it's for job relocation, changing households, or any other personal motivation. As a seller, you can feel confident there is a market for your house today. And that demand is pretty strong as buyers settle into where rates are right now.
Bottom Line
The way buyers perceive today's mortgage rates is shifting – they're getting used to the new normal. Steady rates are contributing to strong buyer demand and consistent home sales. Let's connect so we can get your house on the market and in front of those buyers.