Exploring Your Next Move: How Newly Built Homes Might Be the Perfect Choice After Selling
Posted by Heidi Schrock on Wednesday, August 2, 2023 at 12:02:37 PM
By Heidi Schrock / August 2, 2023
Comment
Absolutely! If you're contemplating selling your house but are concerned about finding your next home in the current market, you're not alone. However, there's some reassuring news that may alleviate your concerns. New home construction is on the rise and is becoming a more substantial portion of the housing inventory.
This means that when you decide to list your house on the market this summer, considering newly built homes becomes essential in expanding the options available for your next move. The increased construction of new homes brings additional choices for homebuyers, providing them with a wider range of properties to select from. By exploring newly constructed homes, you can discover modern designs, contemporary amenities, and energy-efficient features that align with your preferences and lifestyle.
With the real estate market experiencing limited inventory and heightened demand, newly built homes offer an attractive solution for buyers seeking more options. By tapping into the expanding pool of newly constructed properties, you increase your chances of finding a home that meets your specific needs and aligns with your budget. Additionally, working with a knowledgeable real estate professional can help you navigate the new home construction market, ensuring you have access to the latest inventory and can make informed decisions that align with your goals.
In summary, the rise in new home construction presents a promising opportunity for homeowners looking to sell their current property and move into a new home. By considering newly built homes, you can expand your options, explore modern designs and amenities, and potentially find the perfect property that fits your unique requirements. As you prepare to sell your house and enter the market, consult with a trusted real estate advisor to explore the available options and make the most informed decision for your next move.
Near-Record Percentage of New Home Inventory
Newly built homes today make up a near-record percentage of the total number of homes available for sale (see graph below):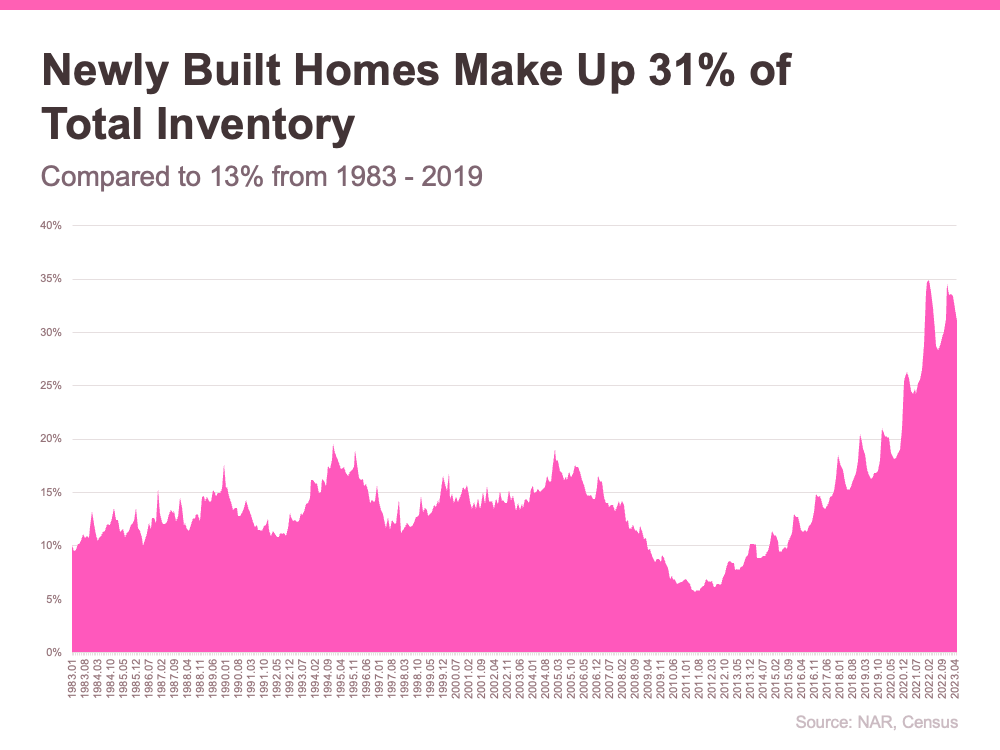 In fact, as the data shows, newly built homes now make up 31% of the total for-sale inventory. Over the past couple of decades, newly built homes made up an average of only around 13% of total housing inventory from 1983 to 2019.
That means the percentage of the total available homes that are newly built is over two times higher than the norm.
Why This Matters to You
Overall, the supply of homes for sale is still low. And when there's limited supply, it's crucial to explore all of your available choices. New-home construction has emerged as a game changer with increasing inventory. Not to mention, recent data shows it's gaining even more momentum as more newly built homes are underway and will be coming to the market in the months ahead.
Robert Dietz, Chief Economist at the National Association of Home Builders (NAHB), highlights the importance of newly built homes for those looking to buy in today's housing market. Dietz states:
"With limited available housing inventory, new construction will continue to be a significant part of prospective buyers' search in the quarters ahead."
It's crucial not to overlook the growing market segment of newly built homes, as doing so may cause you to miss out on fantastic opportunities to find your ideal home. With new home construction accounting for approximately 31% of the total for-sale inventory, disregarding newly built homes could mean eliminating nearly one in three options from your search. By exploring this segment, you open yourself up to a wide range of modern, energy-efficient, and customizable properties that align perfectly with your preferences and needs.

If you're contemplating a move, partnering with a local real estate agent can be immensely beneficial. A skilled agent can guide you through the process of selling your current house and simultaneously help you explore the available newly built options in your desired area. Their expertise will enable you to navigate both sides of the transaction efficiently, ensuring a seamless transition from your current home to your dream home.

With the real estate market presenting challenges in terms of low inventory and high demand, tapping into the newly built home market becomes even more critical. Relying on the assistance of a real estate professional will provide you with access to the latest listings and insights, making it easier to find the perfect home to suit your lifestyle and budget. So, as you plan your move, consider leveraging the expertise of a local real estate agent to maximize your options and make the most of the current housing market.

Bottom Line

Now's the time to sell your house and take advantage of the momentum that's building in new home construction. Let's connect so you have a guide throughout the selling and buying process. Together, we can make your transition to a newly built home a reality.