Patience Pays Off: Why Persistence is Key When Trying to Buy a Home
Posted by Heidi Schrock on Thursday, June 1, 2023 at 11:45 AM
By Heidi Schrock / June 1, 2023
Comment
While the current housing market favors sellers, there are still advantages to being a buyer. Here are a few benefits to consider:
More negotiating power: In a competitive market, sellers may be more willing to negotiate on price and terms, giving buyers an opportunity to secure a favorable deal.

Low mortgage rates: Despite some volatility, mortgage rates remain historically low, which can make homeownership more affordable in the long run.

Potential for future appreciation: Although home prices have stabilized, real estate has historically been a solid long-term investment. Buying a home now could offer potential appreciation over time.

Expanded housing options: While inventory may be limited, with patience and persistence, buyers can still find homes that meet their needs and preferences.

Building equity: By entering the market as a buyer, you have the opportunity to start building equity in a home, which can provide financial stability and wealth-building potential.
Navigating the challenges of the current market may require working closely with a trusted real estate professional who can help you identify opportunities and make informed decisions throughout your homebuying journey.
Long-Term Benefits Outweigh Short-Term Challenges
Owning a home grows your net worth – and since building that wealth takes time, it makes sense to start as soon as you can. If you wait to buy and keep renting, you'll miss out on those monthly housing payments going toward your home equity. Freddie Mac puts it this way:
"Homeownership not only builds a sense of pride and accomplishment, but it's also an important step toward achieving long-term financial stability."
Indeed, while the current sellers' market may present some challenges, it's important to consider the long-term financial benefits that homeownership provides. Over time, homeowners can experience home value appreciation, which means their property's worth increases. Additionally, homeowners build equity as they pay down their mortgage, which can be a valuable asset for future financial endeavors. Despite the competitive market conditions, the potential long-term benefits of homeownership make it a worthwhile investment for many individuals.
Mortgage Rates Are Constantly Changing
Mortgage rates have been hovering around 6.5% over the last several months. However, as Sam Khater, Chief Economist at Freddie Mac, notes, they've been coming down some recently:
"Economic uncertainty continues to bring mortgage rates down. Over the last several weeks, declining rates have brought borrowers back to the market . . ."
Lower mortgage rates improve your purchasing power when you buy, and that can help make homeownership more affordable. Hannah Jones, Economic Data Analyst at realtor.com, explains:
"As we move into the spring buying season, mortgage rates have ticked lower, a welcomed sign of progress towards affordability."
The recent drop in mortgage rates is good news if you couldn't afford to buy a home when they peaked.
Home Prices Will Increase
According to the Home Price Expectation Survey, which polls over 100 real estate experts, home values will go up steadily over the next few years after a slight decline this year (see graph below):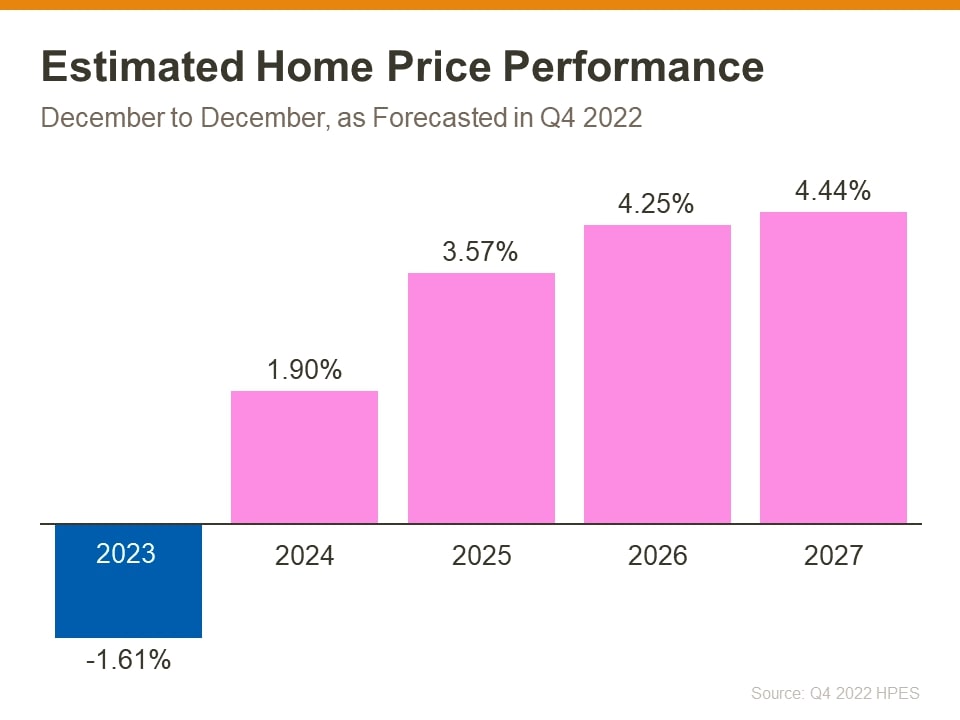 Rising home prices in the coming years means two things for you as a buyer:
Waiting to buy a home could mean it'll become more expensive to do so.
Buying now means the value of your home, and your net worth, will likely grow over time.
Bottom Line
If you've been trying to buy a home, hang in there. Mortgage rates have ticked down some recently, home prices are forecast to increase in the coming years, and the long-term benefits of homeownership outweigh many of the short-term challenges.