Planning Ahead: Understanding the Outlook for Home Prices in 2023
Posted by Heidi Schrock on Thursday, September 28, 2023 at 10:45 AM
By Heidi Schrock / September 28, 2023
Comment
Indeed, home prices have been a subject of much discussion and speculation in the past year. The housing market has experienced significant shifts, but the predictions vary widely among experts.
One camp suggests that we may see a substantial decline in prices, drawing parallels to the 2008 housing crisis. However, it's essential to note that the current market conditions are fundamentally different from those leading up to the 2008 crash. Today's low housing inventory and strong demand from buyers have contributed to the resilience of home prices, making a repeat of the 2008 crash unlikely.
On the other hand, some experts forecast a more balanced market with slight appreciation or depreciation depending on the region. The extent of price changes can vary based on local factors, such as supply and demand dynamics, job growth, and economic conditions.
As we approach the spring real estate market, industry experts continue to provide their insights on home prices for the upcoming year and beyond. Still, it's crucial to remember that predicting the future of the real estate market is challenging and subject to various factors and uncertainties.
For potential homebuyers and sellers, it's essential to stay informed by consulting with experienced real estate professionals who have a deep understanding of the local market. A trusted real estate agent can provide valuable guidance based on current market conditions, helping buyers and sellers make informed decisions that align with their specific goals and circumstances. Ultimately, working with a knowledgeable professional can help navigate the complexities of the housing market and ensure a successful transaction.
Selma Hepp, Chief Economist at CoreLogic, says:
"While 2023 kicked off on a more optimistic note for the U.S. housing market, recent mortgage rate volatility highlights how much uncertainty remains. Nevertheless, the continued shortage of for-sale homes is likely to keep price declines modest, which are projected to top out at 3% peak to trough."
Additionally, every quarter, Pulsenomics surveys a panel of over 100 economists, investment strategists, and housing market analysts regarding their five-year expectations for future home prices in the United States. Here's what they said most recently: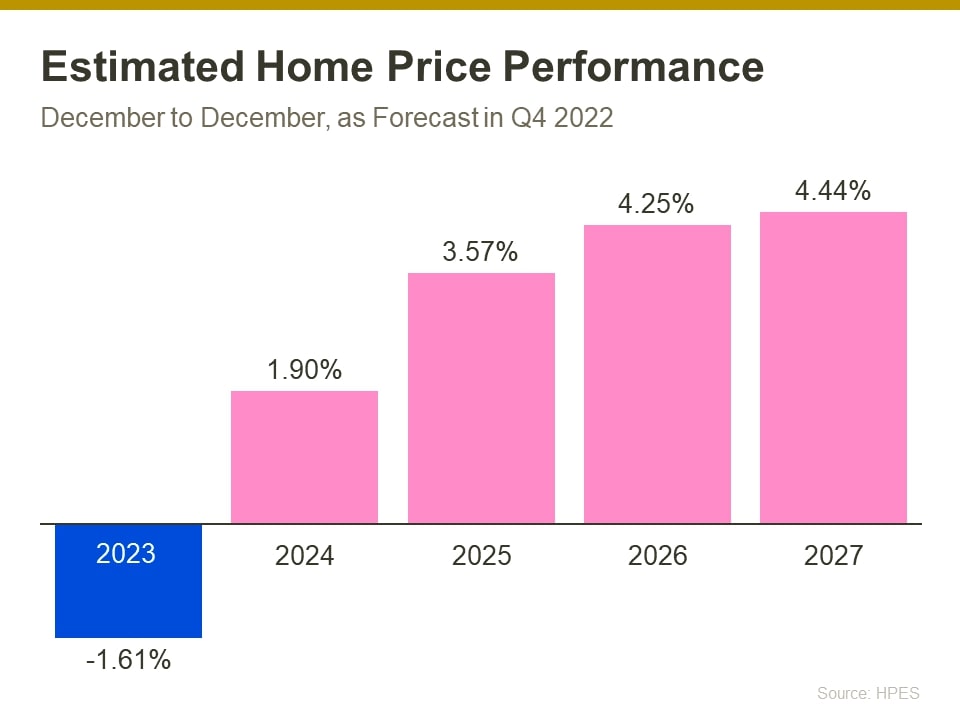 So, given this information and what experts are saying about home prices, the question you might be asking is: should I buy a home this spring? Here are three reasons you should consider making a move:
Buying a home helps you escape the cycle of rising rents. Over the past several decades, the median price of rent has risen consistently. The bottom line is, rent is going up.
Homeownership is a hedge against inflation. A key advantage of homeownership is that it's one of the best hedges against inflation. When you buy a home with a fixed-rate mortgage, you secure your housing payment, so it won't go up like it would if you rent.
Homeownership is a powerful wealth-building tool. The average net worth of a homeowner is $255,000 compared to $6,300 for a renter.
Experts are projecting slight price depreciation in the housing market this year, followed by steady appreciation. Given that, you may be wondering if you should move ahead with buying a home this spring. The decision to purchase a home is best made when you do it knowing all the facts and have an expert on your side.
Bottom Line
Let's connect so you can make the most informed decision about your next move.