Stability in Turbulent Times: Exploring the Factors Behind Resilient Home Prices
Posted by Heidi Schrock on Wednesday, May 31, 2023 at 11:33 AM
By Heidi Schrock / May 31, 2023
Comment
Lawrence Yun, Chief Economist at the National Association of Realtors (NAR), expects home prices to remain relatively stable despite the recent shifts in the housing market. While mortgage rates rose significantly last year, impacting affordability, and home prices peaked in the summer, the overall trend at the national level has been a flattening of prices. Yun anticipates this stability to persist moving forward.
"[H]ome prices will be steady in most parts of the country with a minor change in the national median home price."
The limited inventory in the housing market is a factor that is preventing prices from significantly declining, despite expectations of price reductions. With fewer homes available for sale, sellers have more leverage, and the competition among buyers remains high. This imbalance between supply and demand puts a floor on home prices and prevents them from dropping significantly. So, while sellers may not have to lower prices to attract buyers, the low inventory is playing a role in supporting home prices.
"We simply don't have enough inventory. Will some markets see a price decline? Yes. [But] with the supply not being there, the repeat of a 30 percent price decline is highly, highly unlikely."
As you can see in the graph below, we've been at or near record-low inventory levels for a few years now.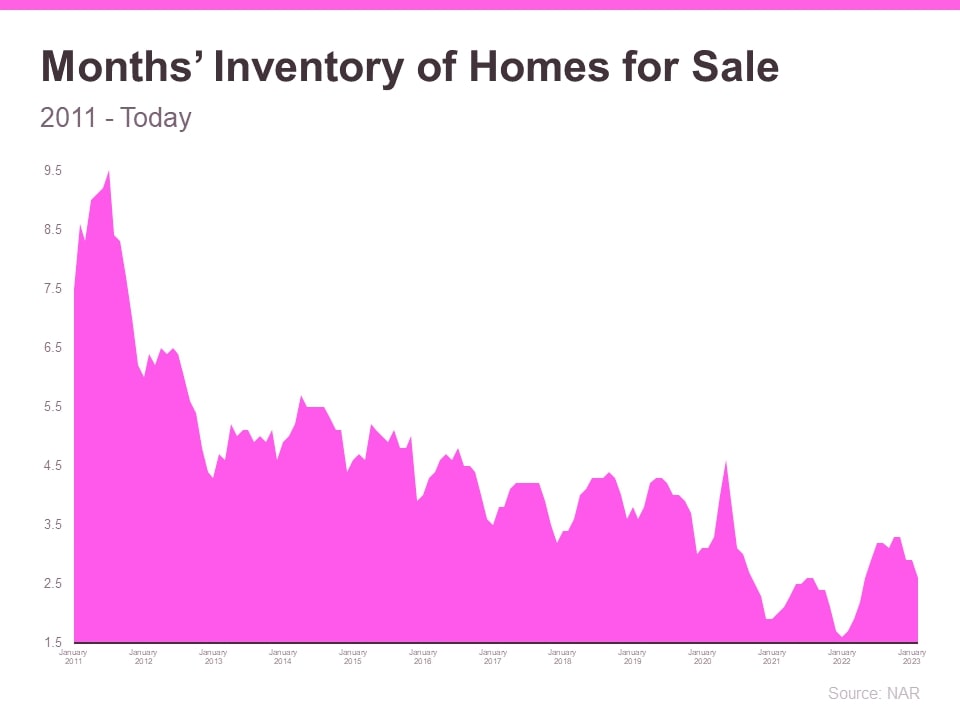 That lack of available homes on the market is putting upward pressure on prices. Bankrate puts it like this:
"This ongoing lack of inventory explains why many buyers still have little choice but to bid up prices. And it also indicates that the supply-and-demand equation simply won't allow a price crash in the near future."
If more homes don't come to the market, a lack of supply will keep prices from crashing, and, according to industry expert Rick Sharga, inventory isn't likely to rise significantly this year:
"I believe that we're likely to see low inventory continue to vex the housing market throughout 2023."
You're correct that sellers currently have the advantage due to the abundance of equity and low mortgage rates. This situation reduces the likelihood of distressed sales and provides homeowners with a cushion against financial difficulties. However, given the limited inventory, it becomes crucial to partner with a knowledgeable real estate agent who has a deep understanding of your local market. They can guide you through the current market conditions and help you make informed decisions in the face of volatility.
Bottom Line
A lot of people expected prices would crash this year thanks to low buyer demand, but that isn't happening. Why? There aren't enough homes for sale. If you're thinking about moving this spring, let's connect.