Strategic Selling: Why Choosing a Less Competitive Time Can Help You Achieve a Higher Sale Price
Posted by Heidi Schrock on Thursday, May 18, 2023 at 1:42 PM
By Heidi Schrock / May 18, 2023
Comment
If you're thinking about selling your house, you should know the number of homes for sale right now is low. That's because, this season, there are fewer sellers listing their houses for sale than the norm.
Looking back at every April since 2017, the only year when fewer sellers listed their homes was in April 2020, when the pandemic hit and stalled the housing market (shown in red in the graph below). In more typical years, roughly 500,000 sellers add their homes to the market in April. This year, we saw fewer than 400,000 sellers entering the market in April (see graph below):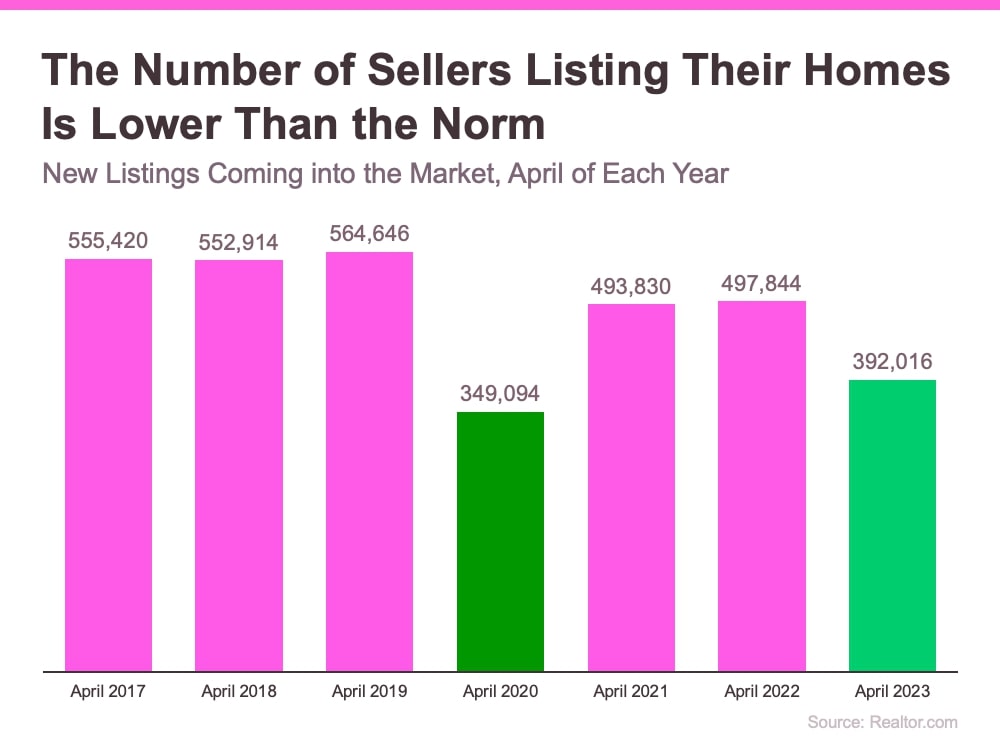 The current low inventory in the housing market can be attributed to several factors, and one significant factor is the phenomenon known as "rate lock." Many homeowners are hesitant to sell their current homes because they have a lower mortgage rate compared to the prevailing rates for their next potential property.
According to a recent survey conducted by Realtor.com, 56% of individuals planning to sell their homes within the next year stated that they are waiting for mortgage rates to decrease before making a move. This "rate lock" mentality arises when homeowners are reluctant to give up their favorable interest rates, which they obtained when they purchased their existing homes.
By holding onto their current homes, homeowners can continue to benefit from their lower mortgage rates, potentially saving them money in the long term. However, this cautious approach contributes to a reduced number of available properties on the market, exacerbating the existing inventory shortage.
The decision to wait for rates to come down before selling is influenced by the expectation that mortgage rates may decline in the future. Homeowners who are planning to sell and purchase a new property are hoping to secure a lower mortgage rate for their next home, maximizing their purchasing power and potentially reducing their monthly mortgage payments.
However, it's important to note that predicting the future direction of mortgage rates is challenging, as they are influenced by various economic factors, including inflation and market conditions. Homeowners considering selling should carefully evaluate their individual circumstances, consult with real estate professionals, and closely monitor market trends to make informed decisions regarding their timing.
While rate lock may contribute to low inventory levels, it's essential to consider the broader dynamics of the housing market, such as supply and demand, affordability, and local market conditions, when assessing the availability of homes for sale.
While this wait-and-see approach is right for some sellers, it also creates an opening for more eager sellers to jump in now.
If you find yourself in a situation where your current home no longer meets your needs and you are prepared to move, it is an opportune time to make your property stand out. With fewer sellers listing their homes for sale, the limited supply of available homes increases the chances of attracting more attention to your house. This can potentially result in multiple offers from buyers who are competing for the limited inventory, particularly if you price your home appropriately.
The reduced inventory levels create a scenario where the demand for homes exceeds the available supply. As a result, buyers may be more motivated to make competitive offers to secure a property that meets their requirements. By pricing your home correctly, you can attract a larger pool of potential buyers, generating increased interest and potentially leading to multiple offers.
To optimize your chances of attracting buyers and receiving competitive offers, it is crucial to work with a knowledgeable real estate professional. They can provide valuable insights on local market conditions, help you determine an appropriate listing price, and employ effective marketing strategies to showcase your property to potential buyers.
In addition to pricing your home right, it's important to ensure that your property is in its best possible condition to make a positive impression on buyers. Consider making necessary repairs or improvements, staging your home to enhance its appeal, and highlighting its unique features and attributes.
By taking advantage of the current market dynamics and presenting your home as a desirable option among the limited supply of homes for sale, you increase the likelihood of attracting attention and receiving competitive offers. However, it's important to stay informed about the local market conditions and work closely with your real estate agent to navigate the selling process successfully.
As Lawrence Yun, Chief Economist at the National Association of Realtors (NAR), says:
"Inventory levels are still at historic lows . . . Consequently, multiple offers are returning on a good number of properties."
Bottom Line
If you're ready to sell now, beat the competition before it comes onto the market. If you do, your house should stand out and could get multiple offers. Let's connect to get you market ready.