Surviving an Economic Downturn: How the Real Estate Industry Remains Resilient
Posted by Heidi Schrock on Tuesday, May 2, 2023 at 9:00 AM
By Heidi Schrock / May 2, 2023
Comment
Everywhere you look, people are discussing a possible recession. If you're planning to buy or sell a home, you might be wondering if your decision is still a smart one. However, experts are saying that if a recession does happen, it will likely be mild and brief. The Federal Reserve explained in their March meeting:
". . . the staff's projection at the time of the March meeting included a mild recession starting later this year, with a recovery over the subsequent two years."
While a recession may be on the horizon, it won't necessarily lead to a housing crisis. To demonstrate this, let's look at historical real estate data from previous recessions. By doing so, you'll see why you shouldn't be concerned about what a recession could mean for the housing market today.
A Recession Doesn't Mean Falling Home Prices
To show that home prices don't always decrease during a recession, we can look at historical data. As the graph below illustrates, during six recessions that occurred since 1980, home prices appreciated in four of them. Thus, historically, when the economy slows down, it doesn't always lead to a decline in home values.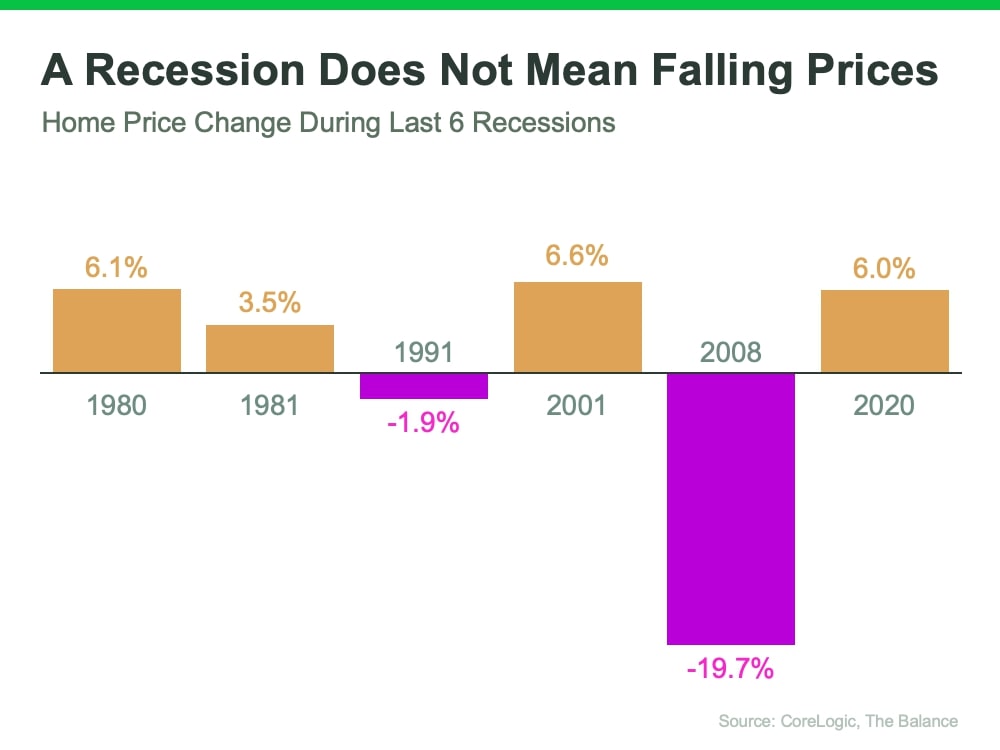 While most people remember the housing crisis of 2008 (the larger of the two red bars in the graph above) and fear another recession will lead to a similar housing crisis, today's housing market is unlikely to crash. The fundamentals of the market are different than they were in 2008. One of the main reasons prices fell during the last recession was because there was a surplus of homes for sale at the same time distressed properties flooded the market. Today, however, the number of homes for sale is low, so while home prices may experience slight declines in some areas and slight gains in others, a housing market crash is not in the cards.
A Recession Means Falling Mortgage Rates
What a recession typically means for the housing market is falling mortgage rates. As the graph below shows, historically, each time the economy slows down, mortgage rates decrease.
According to Bankrate, mortgage rates usually decrease during a traditional recession: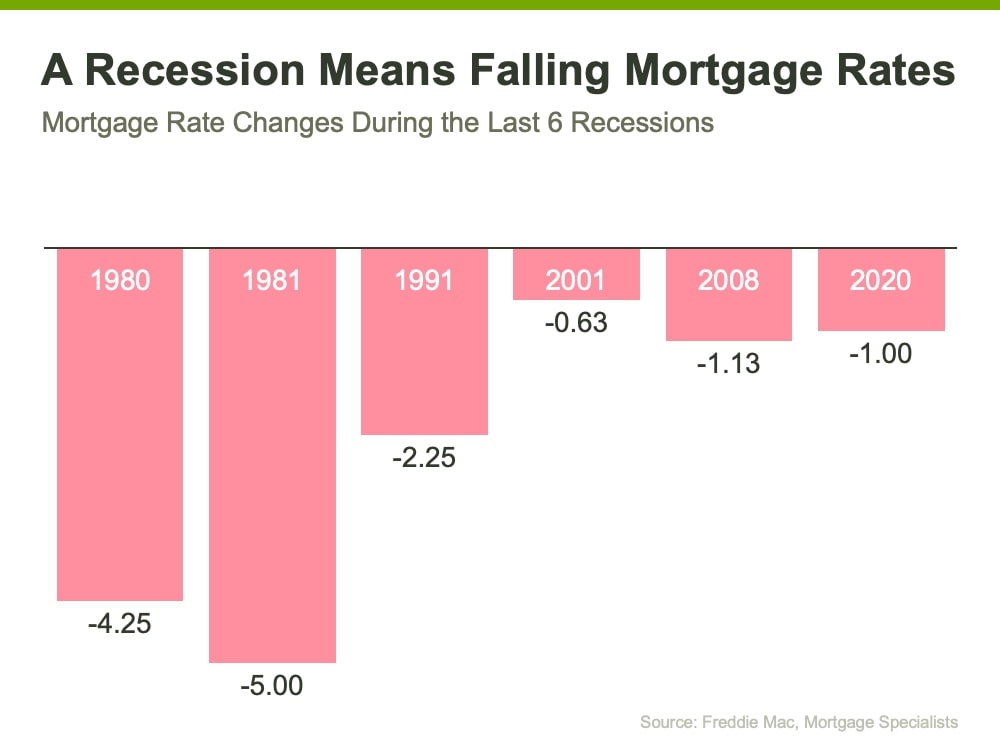 "During a traditional recession, the Fed will usually lower interest rates. This creates an incentive for people to spend money and stimulate the economy. It also typically leads to more affordable mortgage rates, which leads to more opportunity for homebuyers."
This year, mortgage rates have been quite volatile due to high inflation, hovering between roughly 6-7% for the 30-year fixed mortgage rate. This has affected affordability for many potential homebuyers. However, if there is a recession, history tells us that mortgage rates may fall below that threshold, even though the days of 3% rates are behind us.
In conclusion,
you don't need to fear what a recession could mean for the housing market. If we do experience a recession, experts believe it will be mild and brief. Additionally, historical data shows that a recession often leads to falling mortgage rates, which can provide more opportunities for homebuyers.