The Importance of Setting the Right Price for Your Spring Home Sale
Posted by Heidi Schrock on Friday, June 9, 2023 at 1:36 PM
By Heidi Schrock / June 9, 2023
Comment
Setting the right list price for your house is crucial in today's evolving housing market. With the market favoring sellers but also becoming more price-sensitive, it's important to work closely with your expert real estate advisor to determine an optimal list price. They have access to market data, insights, and local knowledge to help you accurately assess the value of your home. By pricing your house competitively and strategically, you can attract the attention of potential buyers and increase your chances of a successful sale.
"Move-in-ready homes with curb appeal and in desirable areas—and that are priced to sell—are especially likely to move quickly this spring."
In the current market, pricing your house correctly is crucial for maximizing your profit and ensuring a timely sale. Overpricing your house can discourage potential buyers and lead to prolonged time on the market. On the other hand, pricing it competitively can attract more interest, generate multiple offers, and potentially result in a faster sale. Working closely with your real estate agent, who has a deep understanding of local market conditions and buyer preferences, will help you determine the optimal price that aligns with your goals and attracts the right buyers.
Why Pricing Your House Right Matters
Your asking price sends a message to potential buyers, especially today.
Pricing your home correctly from the start is crucial to maximize your chances of a successful sale. Setting the price too low may result in leaving money on the table or raising suspicions among potential buyers. On the other hand, pricing it too high can deter buyers and lead to extended time on the market, potentially requiring a price reduction later on.
To avoid these issues, it's essential to work with a real estate professional who can accurately determine the ideal asking price. They consider various factors such as comparable home values in your area, market conditions, buyer demand, and the condition of your property. By setting the right price, you attract interested buyers, receive stronger offers, and increase the likelihood of a timely sale. The visual below highlights the impact that the asking price can have on buyer interest and perceived value.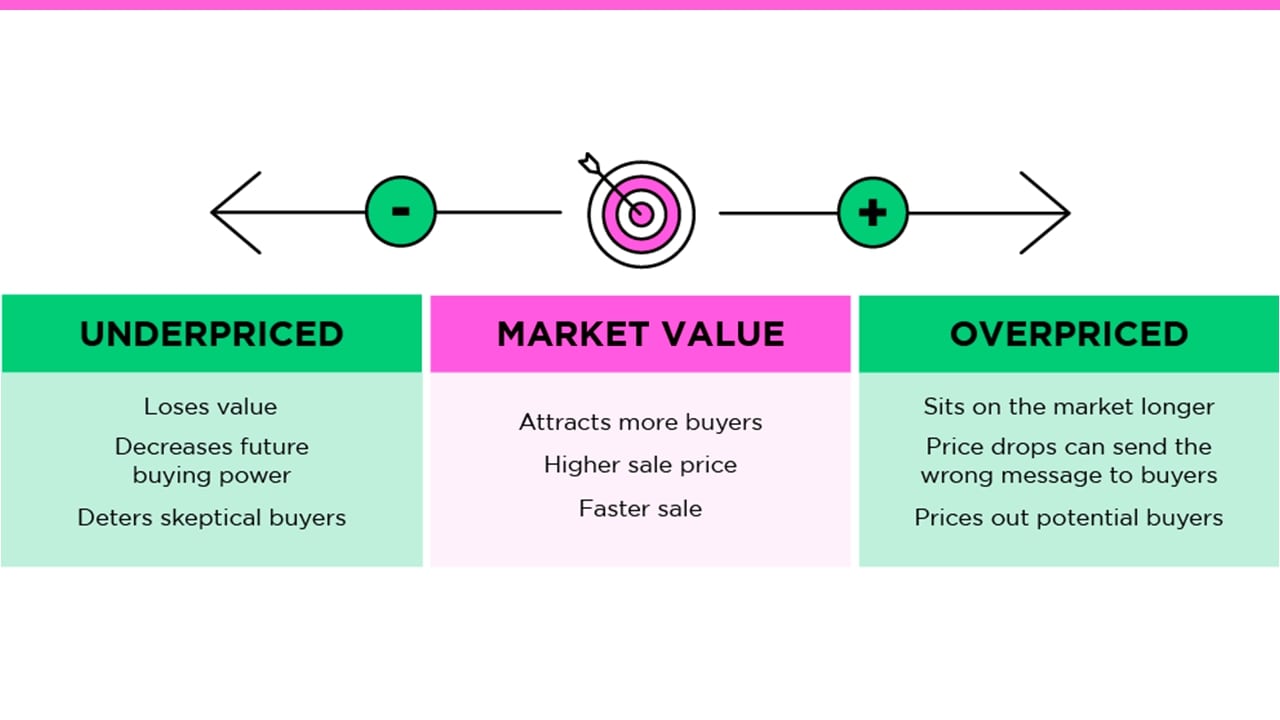 Bottom Line
Homes priced at the current market value are selling faster and at a better price right now. To make sure you price your house appropriately, maximize your sales potential, and minimize your hassles, let's connect today.