The Sell Signal: Two Clear Indicators It's Time to Put Your House on the Market
Posted by Heidi Schrock on Tuesday, May 30, 2023 at 11:26 AM
By Heidi Schrock / May 30, 2023
Comment
When contemplating whether to sell your house this year, it's important to consider your motivations. A survey conducted by realtor.com revealed the top two reasons homeowners are contemplating selling their houses in the current year. The reasons are as follows:
Desire for a larger home: Many homeowners are looking to move into a bigger home to accommodate their changing needs, such as growing families or the need for more space.
Change in location: Some homeowners are considering selling to relocate to a different area, whether it's for work, lifestyle, or other personal reasons.
Understanding your own motivations can help inform your decision-making process and provide clarity on whether selling your house this year aligns with your goals and aspirations.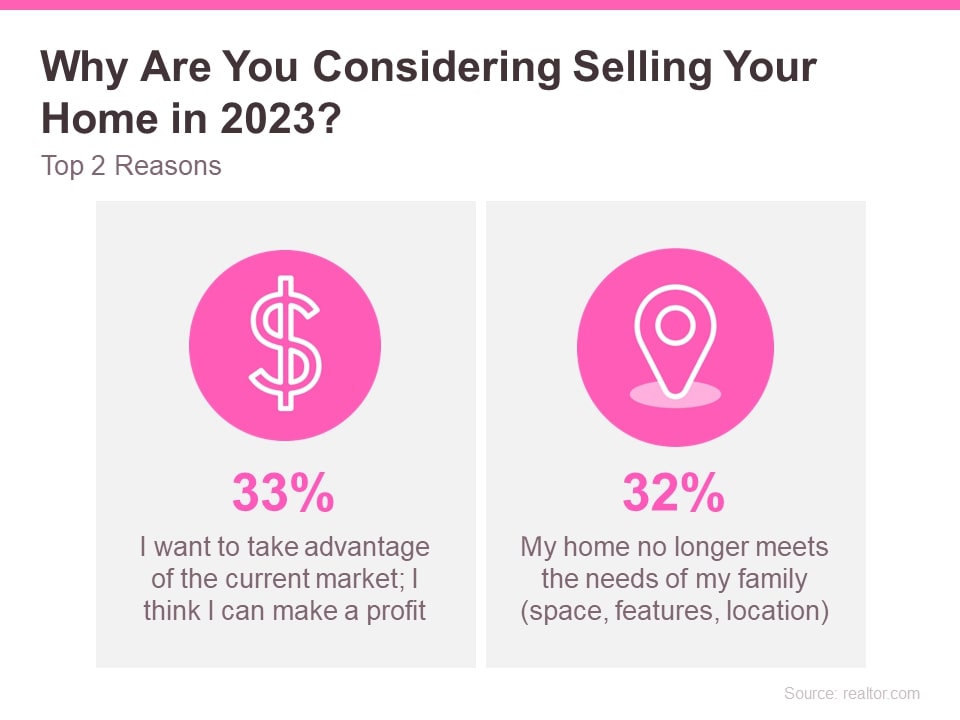 Let's break those reasons down and explore how they might resonate with you.
1. I Want To Take Advantage of the Current Market and Make a Profit
When selling your house, it's natural to be concerned about the potential financial return on your investment. The good news is that according to the latest data, homeowners can expect a strong return when they decide to sell. ATTOM, a real estate data firm, provides insights into this:
On a national level, homeowners who sold their properties in the most recent period analyzed by ATTOM enjoyed an average price gain of [insert specific percentage or figure]. This means that, on average, homeowners saw a notable increase in the value of their homes when they sold.
This data indicates that the real estate market is favorable for sellers, and it underscores the potential for a profitable sale. However, it's important to note that market conditions can vary by location, so consulting with a trusted real estate agent can provide you with more localized insights and help you understand the potential return on your specific property.
"The $112,000 profit on median-priced home sales in 2022 represented a 51.4% return on investment compared to the original purchase price, up from 44.6% last year and from 32.8% in 2020."
Even though there have been slight declines in home prices in certain markets, it's important to note that overall, home prices remain significantly higher than they were just a few years ago. To get a clear understanding of what's happening with home prices in your specific area and determine the current value of your house, it is highly recommended to work with a local real estate professional. They possess the knowledge and expertise to provide you with accurate insights and can guide you on how much you could potentially gain if you decide to sell your home this year. Their advice will be tailored to your local market conditions and help you make informed decisions regarding your real estate investment.
2. My Home No Longer Meets My Needs
Over the span of ten years, a lot can change in a person's life, and those changes often influence what they require in a home. Whether you find yourself needing more space, seeking different features, or desiring a location that aligns better with your work or personal relationships, it's possible that your current house may no longer meet your evolving needs and preferences. In such cases, it may be worthwhile to collaborate with a real estate agent who can assist you in finding a home that better suits your current lifestyle and priorities. A real estate agent can help you navigate the market, explore available options, and guide you towards a property that truly feels like home.
Bottom Line
If you're thinking about selling your house, there's probably a good reason for it. Let's connect so you can make a move that'll help you accomplish your goals this year.