Visualizing Stability: How Homeownership Provides Protection During Inflation [INFOGRAPHIC]
Posted by Heidi Schrock on Tuesday, July 25, 2023 at 8:00 AM
By Heidi Schrock / July 25, 2023
Comment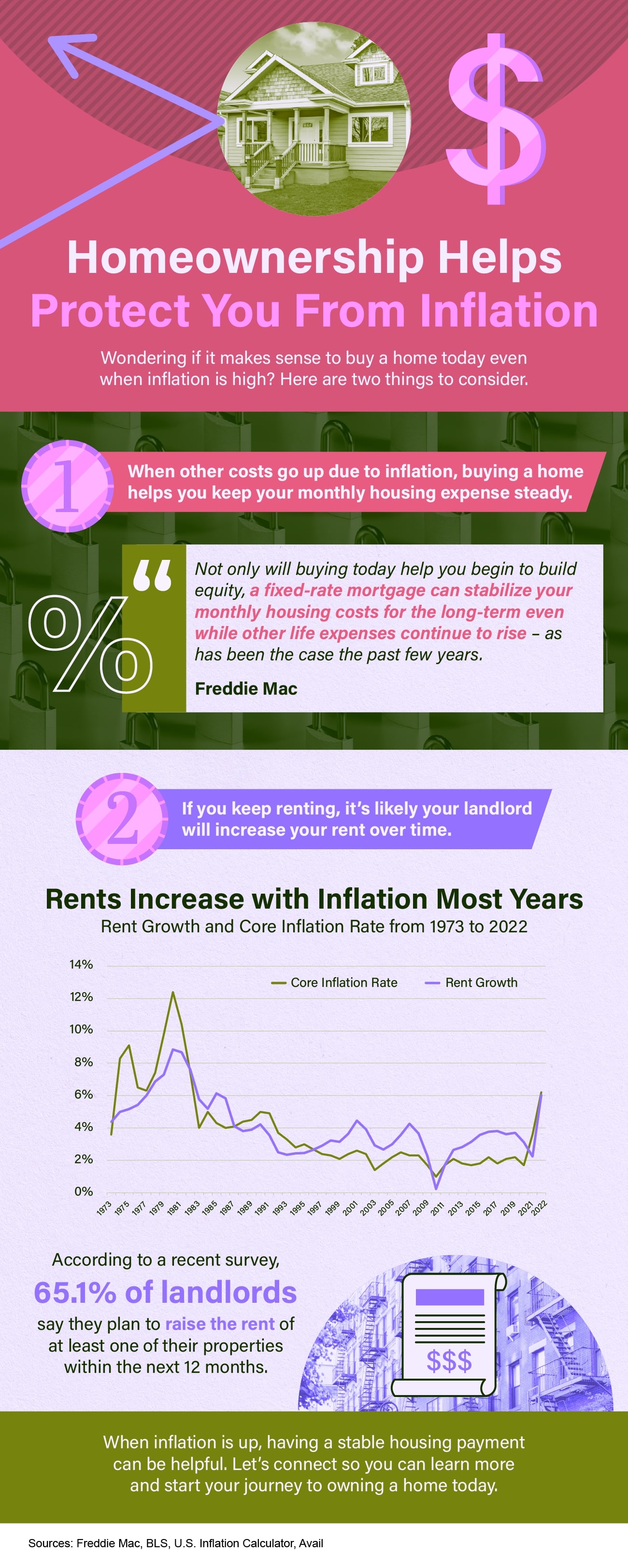 In times of inflation, homeownership can offer a sense of stability and protection against rising costs. One of the key advantages of owning a home is having a fixed mortgage payment, which provides consistency even as inflation drives up rental prices. Unlike renting, where landlords may increase rents to keep up with inflation, homeowners can enjoy the security of a steady housing expense. This stability can be especially valuable during periods of high inflation when the cost of living may be increasing rapidly. Homeowners can plan and budget effectively, knowing that their mortgage payment remains constant, providing a level of financial security.
Additionally, homeowners benefit from the potential appreciation of their property during inflationary periods. Historically, real estate has proven to be a valuable asset that appreciates over time, allowing homeowners to build equity and offset the impact of rising prices. As inflation drives up the cost of goods and services, the value of real estate tends to increase as well. This appreciation can serve as a hedge against inflation, as homeowners' wealth grows alongside the rising prices. Furthermore, this equity can provide homeowners with financial flexibility. They may choose to tap into their home equity through refinancing or home equity loans to manage other expenses or invest in additional assets.
By having control over their housing costs, homeowners can also make improvements to increase energy efficiency, reduce utility expenses, and manage their property expenses effectively. This ability to make long-term investments in energy-efficient upgrades, such as insulation, solar panels, or energy-efficient appliances, can help homeowners mitigate the impact of rising energy costs during inflationary periods. These improvements not only contribute to cost savings but also align with environmentally friendly practices. Homeownership provides the opportunity to create a more sustainable living environment while simultaneously protecting against the erosion of purchasing power caused by inflation.
In summary, homeownership can provide stability and protection during periods of inflation. With a fixed mortgage payment and the potential for property appreciation, homeowners can enjoy a predictable housing expense and build equity over time. They also have the ability to make energy-efficient improvements that reduce costs and align with sustainable practices. However, it's essential to consult with a real estate professional to understand the local market dynamics and make informed decisions based on individual circumstances and financial goals.
Some Highlights
Wondering if it makes sense to buy a home today even when inflation is high? When other costs go up due to inflation, buying a home helps you keep your monthly housing expense steady.
Rents typically increase with inflation. Maybe that's why, according to a recent survey, 65.1% of landlords say they plan to raise the rent of at least one of their properties within the next 12 months.